Expertpicks.com brings you the best MLB odds, picks and betting tips. Bet on MLB with our best bookmaker promotions and sign-up offers. Bet on MLB with Expertpicks.com
MLB Betting Picks
MLB Baseball Betting Tips
Looking for free MLB picks & betting tips for the Major League Baseball season?
Our experts provide picks, betting tips, predictions, previews and best bets for the biggest baseball league in the world throughout the season, including the World Series.
Sign Up Offers
What MLB Betting Markets Can I Bet On?
The main MLB betting markets are Moneyline, spread and over / under total runs:
Money Line - The money line is betting on which team will win the game. There is no option for a draw in the MLB, with teams going to extra innings if the score is tied at the end of regulation, so the moneyline is a two-way market in which you bet on one team to win, and it includes extra innings.
Line - The line market is more also known as a handicap. Bookmakers will assign one team a positive (+) or negative (-) spread, line or handicap depending on favoritism for the game, and the bettor bets to cover the line.
Let's use an MLB game between the Chicago Cubs and Atlanta Braves as an example. If the Cubs start with a +1.5 line and you bet on the Cubs, they need to win the game or lose by less than 2 runs in order for your bet to win.
On the other side of the coin, the Braves would be assigned a -1.5 line spread meaning they would need to win by 2 or more in order for your bet on the Braves to be a winner.
Over / Under Total Runs - This MLB betting market allows bettors to bet on the total amount of runs scored in a game by both teams. The sportsbook will set a line, let's say 8.5 runs and you can bet on the total runs scored by both teams going over or under that total.
What Is An MLB Parlay Bet?
A parlay bet is when you place a sports bet using multiple selections (this is known as an accumulator in some countries). Parlay bets can be placed using one selected sport or league or can be placed on one competition. That means you can place an MLB parlay bet during the regular season and the playoffs as long as you can make at least two selections.
Parlay betting is a popular form of betting because it allows you an opportunity to make big wins from small stakes due to the enhanced risk involved. If, for example, you make three selections in your bet, you will need all three to be a winner for you bet to be successful. Some bookmakers will offer you the chance to insure your MLB parlay bet and others will give you the chance to boost your winnings. For details on these MLB betting promotions, read on:
Are There Any MLB Betting Promotions?
Of course there are MLB betting promotions. Baseball remains one of the most popular sports across the United States so it goes without saying that there are a host of MLBbetting promotions available from licensed bookmakers throughout the regular season and the postseason.
These vary in type, with some offering customers the opportunity to insure their bets, while other offer customers the chance to add bonuses to their winnings. One leading sportsbook offers customers the chance to claim bonuses of up to 70% on winning MLB parlay bet, while another will refund your losing wager if one selection in your parlay bet lets you down.
Parlay bets are not the only types of bets covered. A leading sportsbook in the US currently offers to pay customers out early if the team they back in the Moneyline market takes a 5-run lead at any point in the matchup. It does not matter if they go on to win or lose.
So whichever bookmaker you place your bets with, check out the bookmaker promotions section in order to find out what MLB betting promotions are available to you. And if you are looking for a new bookmaker to place your MLB bets with, check out our
review section here
.
MLB News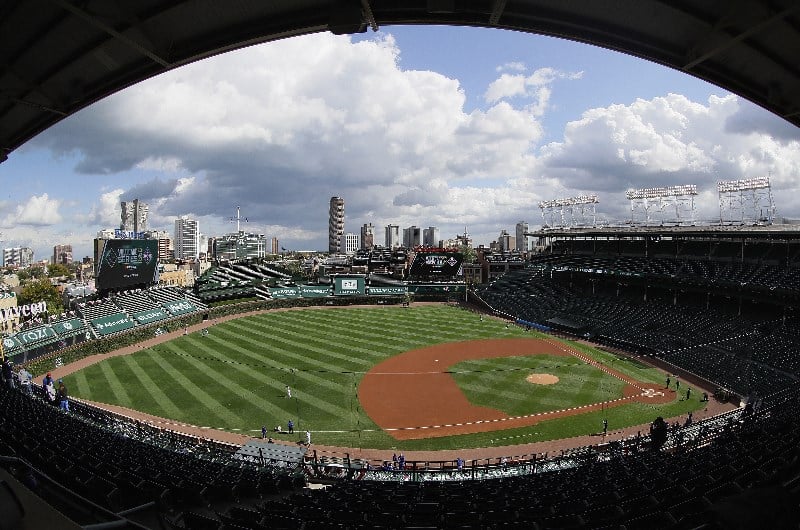 Throughout the season bookmaker Stake will be live streaming selected games from the MLB direct to your iPhone, iPad or Android device, as well as desktop, meaning you don't have to miss a moment of the action.
Live streaming is only available to eligible customers and to watch an MLB live stream all you need is a funded account or to have placed a bet in the last 24 hours. Read on for our step-by-step guide to watching MLB live streams:
How To Watch NHL Live Streams
Log into your account or register for one
Navigate to the In-Play link on the homepage
Choose 'baseball'
Select an MLB match with a play icon beside it
Make sure you have met the relevant MLB live streaming rules
Once the game gets underway you will have access to live streaming and in-play betting
MLB FAQs
What is the MLB?
MLB (Major League Baseball) is a men's professional baseball league in the United States.
What is the World Series?
The World Series is a seven match series between the National League winners and American League winners to decide the winner of the MLB Championship.
Who has won the most MLB World Series Championships?
The New York Yankees have both won the World Series 27 times.
How many teams are in the MLB?
There are 30 teams in Major League Baseball. The 30 teams in MLB are Arizona Diamondbacks, Atlanta Braves, Baltimore Orioles, Boston Red Sox, Chicago White Sox, Chicago Cubs, Cincinnati Reds, Cleveland Indians, Colorado Rockies, Detroit Tigers, Houston Astros, Kansas City Royals, Los Angeles Angels, Los Angeles Dodgers, Miami Marlins, Milwaukee Brewers, Minnesota Twins, New York Yankees, New York Mets, Oakland Athletics, Philadelphia Phillies, Pittsburgh Pirates, San Diego Padres, San Francisco Giants, Seattle Mariners, St. Louis Cardinals, Tampa Bay Rays, Texas Rangers, Toronto Blue Jays, Washington Nationals.