Super Bowl LVII - Win A $10,000 Bet At Pinnacle
Pinnacle are offering you the chance to win a $10,000 bet on Super Bowl LVII
Bet on the NFL playoffs for the chance to win
Top the leaderboard and you will win the $10,000 bet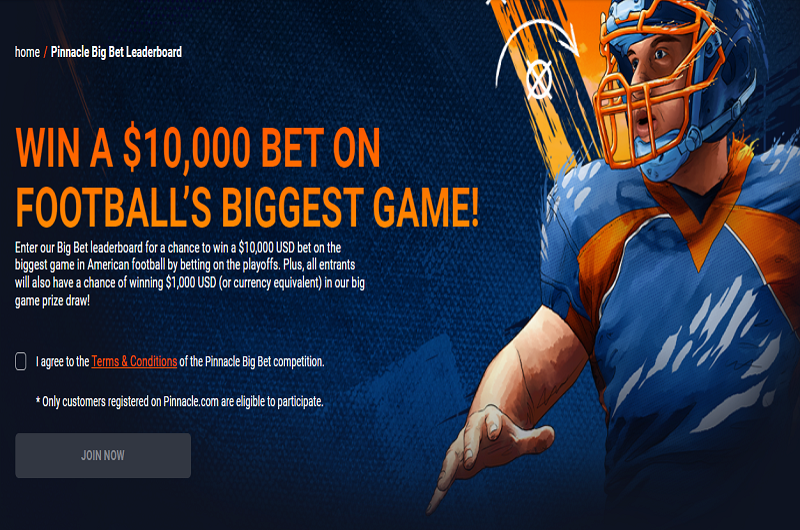 Pinnacle are offering new and existing customers the chance to win a $10,000 bet on Super Bowl LVII by simply betting on the NFL Playoffs.

To enter the Big Bet leaderboard, simply start betting on the Super Wildcard Weekend, Divisional Round and Conference Championship games at
Pinnacle
.
You will be awarded points for the bets placed with a $10,000 free bet on the Super Bowl going to the Pinnacle member who tops the leaderboard.
Plus, all entrants will get the chance to win $1,000 USD (or currency equivalent) in a prize draw.



Big Bet Leaderboard Rules and T&Cs
When you opt into the Pinnacle Big Bet competition, we'll assign you a unique ID. Use this to track your progress on the leaderboard below.
Then simply place pre-game and/or in-play Single bets on any of the high-octane American football playoff games listed in the T&Cs below. If your bet(s) win, you'll earn points based on your winnings.
Your first pre-game and in-play bets placed on any playoff game will be eligible to earn points. Any additional bets made on that game will not generate points.
Points will be calculated on up to $10 USD (or currency equivalent*) risked on your first pre-game and/or in-play bets on any playoff game. Any amount risked above this on these bets will not generate points.
The player at the top of the leaderboard at the end of the competition will win a massive $10,000 USD bet on the biggest game of the American football season, taking place on Sunday, February 12, 2023.
In addition, all qualified participants will be entered into a prize draw taking place on February 6, 2023. One player will be selected at random to win $1,000 USD (or currency equivalent) in cash.
The Pinnacle Big Bet competition will be open from 09:00 (EST) on January 12, 2023, to 23:59 (EST) on January 29, 2023. Please see the T&Cs below for a list of all qualifying playoff games.